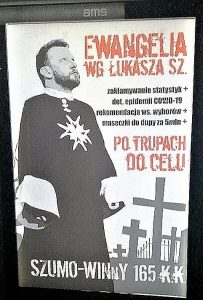 On 26/02/2021 at 7 p.m., the Berlin Busters Social Club (BBSC) invites to an online event starring activists from Poland and Germany. A group of Poland-based feminists has been in the news last year after criticizing then Minister of Health, Łukasz Szumowski, with Adbustings displaying him as a hypocritical saint. They now face charges for an "especially serious case of theft", for which the minimum sentence is 12 months. German police has unsuccessfully tried the same move with Adbusters in Germany in the past. Another activist from Poland is facing charges on blasphemy for creating stickers depicting the "Virgin Mary" with a rainbow-colored halo. Both actions fit into larger protests defending LGBTQI* and women's rights (especially the right to have an abortion) in Poland. Activists from Poland and Germany will share perspectives and highlight differences in their struggles in a shared panel discussion.
In June 2020, activists have hung posters criticizing then Polish Minister of Health, Łukasz Szumowski, into advertising display cases. Their adbustings were part of a feminist week of action. They display Łukasz as a hypocritical saint and call him out for his corruption: He had previously ordered the buying of uncertified masks for millions of zloty so that he and his friend could cash in on the pandemic. He has also been an active participant in the realization of the Polish abortion ban.
Shortly after, the homes of two allegedly involved activists have been searched by the police, accompanied by a television crew. They were put in jail for two days without being allowed to contact a lawyer. A lot of their personal belongings have been seized by the police. Now they are facing charges for an "especially serious" case of theft, punished with at least 12 months of prison if found guilty.
German police has already tried this move back in 2019 (German and Polish law are surprisingly similar here, except that "especially serious" cases of theft have only three months as the minimum penalty). This attempt of criminalization has been unsuccessful: The case has been closed by the public prosecution.
It remains to be seen whether Polish officials will act in the same way. There is currently a government crackdown on LGBTQI* and women's rights in Poland, culminating in regions of Poland declaring themselves to be "LGBT-free zones" and a near total ban of abortions.
The Catholic Church is very strong in Poland and the root cause for this discriminatory spirit. As such, Catholicism is an important subject to attack for activists in Poland. In 2019, an activist created stickers of the "Rainbow Madonna", a motive in which the Virgin Mary and the Infant Jesus are depicted with halos in the colors of the rainbow flag. For this, the activist is facing blasphemy charges and still has to defend themselves in court to this day.
On the event, the invited activists will talk about means of fighting repression in Poland and Germany and try to find a perspective on transnational solidarity. The event will be held in English. We will hand out a list of difficult legal words and the like to all attendees. After the panel, there will be time for questions from you.
For more background information, check this blog post by the "Soligruppe plakativ": https://plakativ.blackblogs.org/2021/02/01/anti-state-guerilla-communication-how-unauthorized-poster-art-reveals-authoritarian-tendencies/
When? Friday, 26th of February 2021 at 7 p.m.

Where? Online: https://lecture.senfcall.de/ber-mg4-xq5-uga
Due to technical issues we've switched to a commercial platform:
https://www.youtube.com/watch?v=jn89_93DLL0

Chat? Questions, discussion points etc. let us know here:
https://kiwiirc.com/nextclient/irc.freenode.net/##bbsc